Welcome To the NW Cobb U10 Boys Academy Homepage
U10 Academy Boys
2009 STRIKERS FC SOCCER
THANKS FOR ANOTHER GREAT SEASON!!
WATCH FOR INFORMATION ABOUT U11's
Upcoming Events
U11 tryouts:
Tuesday, Wednesday, Thursday, May 26-28, 2009
@ Hubert Field 1 - 7:00-8:30pm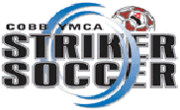 Important Contact Information
Welcome to the new Striker Management committee: Steve Dabek and Cristina Cottone (black team); Adrian Hogg and Mark Zimmerman (blue team); and Terri Patterson and Kim Bengtson (silver team)
Team management e-mail address remains: ymcastriker@yahoo.com

NW Cobb YMCA Soccer Website: http://www.nwystrikersoccer.org/index.html

Weather/Field Hotline: 770-437-6589
ANNOUNCEMENTS/NEWS
THANKS FOR YOUR PARTICIPATION, HAVE A GREAT SUMMER!
Give Us Your Feedback
Tell us what you like about the site, what you'd like to see changed/added, and if you saw a great play by one of our players (or even better, got a great picture you'd like to display).
Click on the e-mail link below to send it.